Rite in the Rain Paper Products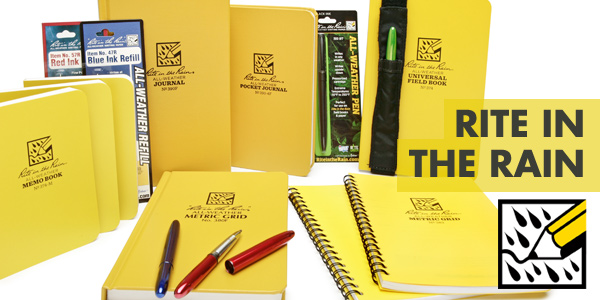 Rite in the Rain All-Weather Writing Paper is a patented substrate created for use in outdoor writing situations. Since this paper is designed for use in extreme conditions it is manufactured with the most durable yet recyclable components available. Recycled content pulp, as a result of the repulping & reprocessing involved in recycling, produces a "weaker" substrate due to the shortened fibers. This inherent weakness reduces the field-durability of paper and as such is not used in the manufacture of Rite in the Rain paper. It is one of the rare instances where virgin fiber adds significantly to the end-product function. Papers designed for "office or indoor" uses do not require this strength and as such can contain recycled fiber. This all being said, the wood fibers we utilize for Rite in the Rain are purchased from FSC Certified sources. By doing this it insures our product is manufactured with high environmental and social standards and practices.
Printer paper;
Pocket notepads;
Spiral notebooks;
Bound books;
Loose leaf;
Writing instruments;
Much more!