Bag Filter Vessel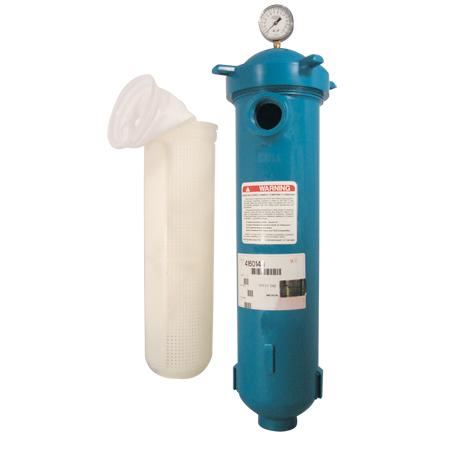 This bag filter vessel is designed to allow high flow rates through a single reusable bag filter. It is rated at 75 gpm for clean water (for particulate-laden water and/or to extend time between cleanings, we recommend a design flowrate below 40 gpm). For higher flows, use two or more in parallel. To further extend time between cleaning, place a larger micron filter before a smaller micron filter in series.
The vessel is made of polypropylene with a threaded lid, O-ring and removable internal basket for easy bag removal. This vessel has 2″ FNPT inlet and outlet and 1/4″ FNPT lid vent and weighs 10 lbs. Optional pressure gauges for lid vent are listed below.
Bags are 6″ dia x 20″ length with 2 ft² of surface area. They are fitted with a Polyloc® ring, which seals directly against the filter housing, eliminating any chance of bypass.
Vessels include housing, lid, retainer basket and 2 plastic leg/foot assemblies, easily cut to required height. Maximum pressure is 100 psi @ 110°F.